Warnlaterne Cligniscope.
nach dem Patent von Omer Marie Cyrille Marischal aus Saint-Dié (Vosges)

Flashing lantern Cligniscope.
Patented by Omer Marie Cyrille Marischal from Saint-Dié (Vosges)


Der Brenner im Detail. Ein Ein-Zoll Flachdocht als Brenn-(Blink)-Docht und ein ca. 2-liniger Docht, um das Verlöschen der Flamme zu verhindern.
The Burner in Detail. A 1-inch flat wick for lighting (flashing) and a 2 line wick to keep the flame from extinguishing.

Vor einiger Zeit konnte ich diese schöne Lampe auf dem Flohmarkt für einen ganzen Euro kaufen.
Was ich nicht verstanden hatte, war die eigentliche Funktion der Lampe. Sie sollte ja eigentlich nicht leuchten, sondern blinken.
Some time ago, I bought that warning lamp on a flea market for the huge sum of EUR. 1.00
But did not understend the way it was thougt to work. It should not light, it should flash.

Nuja, wenn der Docht hoch gedreht ist, leuchtet sie auch.
Beim Colemantreffen in Madison, WI, 2009 erinnerte sich Drew Meyer an die Funktion der "ArtCraft"-Laterne und stellte den Kontakt zum Eigentümer in Australien her.
Indeed, it does light if the wick is turned up too high.
At the Coleman meeting in Madison, WI, in 2009 Drew Meyer remembered the function of "the ArtCraft Lantern" and made a contact to the Australian owner.


So ist es richtig.
Thats correct.
Robert Isdale's Art Craft Lantern.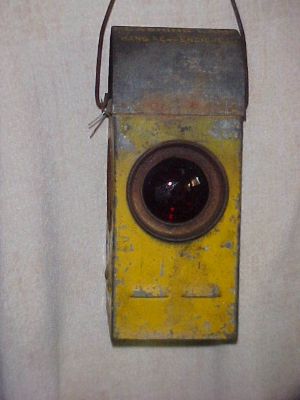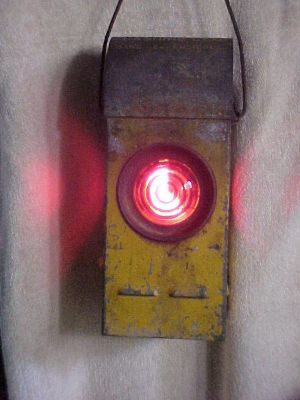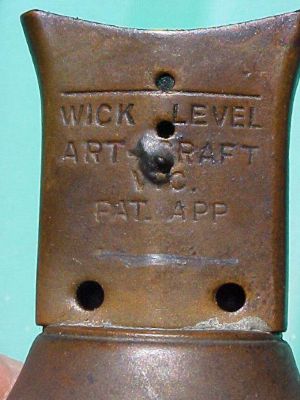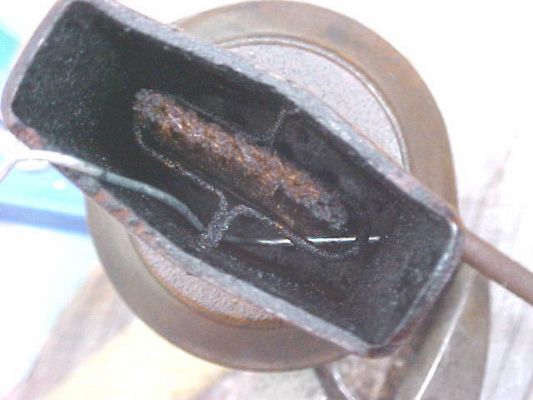 Etwas aufwendiger gefertigt und mit Angabe der idealerweise eizustellenden Dochthöhe. Jeweils drei kleine und zwei etwas größere Löcher sorgen für guten Luftzutritt zur Flamme
Better in built and a little more complex. The ideal height inside the wick tube is stated. Three small and two slightly bigger holes allow air flowing to the flame.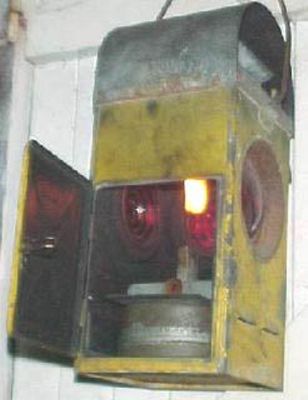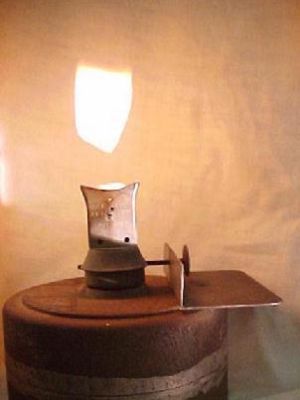 Der Brenner produziert in regelmäßigen Abständen kleine Feuerbälle, die ca. 2-3 cm über dem Dochtrohr verbrennen.
The burner regularly projects small balls of fire that burn about 1 inch over the wick tube.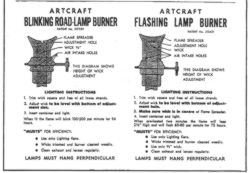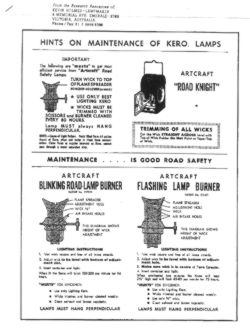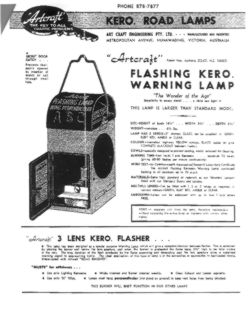 Rob fand außerdem noch ein paar Blätter mit Beschreibungen der Brenner. Anklicken um sie zu vergrößern.
Mit freundlicher Genehmigung.
Rob also found some papers. Click to see original size.
Used with permission
KEROSENE FLASHING ROAD-WARNING LANTERNS.
© by Robert Isdale, Brisbane.
I am sure that we have all had a kerosene wick lamp operating nicely, and wondered what could be causing that occasional flicker of the flame. There would be no other problem, just a flick of the flame and then back to normal.

My guess is that a person involved with the manufacturing or servicing of kerosene lamps had such a problem as that, and thought a bit more deeply about the cause. Realising that it was an air bleed situation and, with a little bit of lateral thinking, he developed the principal as an off-shoot of kerosene lamp technology.

Kevin Holmes in Victoria had made some enquiries about these lanterns some time ago, and will eventually produce a fuller account of the story, but in the meantime, he has made available some of his research material.

Kevin found that the origins of the flashing kerosene road lanterns seem to be with the company ART CRAFT Engineering P/L. Manufacturers and Patentees. Metropolitan Avenue, Nunawading, Victoria. Australia. It is not known at the moment if they were developing a previous idea from someone / somewhere else, and perhaps this article might bring out that information. But the result was the Patent No.217329, dated 26th September 1958, which lists the Applicants as Loris Carl Neuendorf and Maximillan Koenig, and the Actual Inventors as Maximillan Koenig and Walter Francis Glue. The production of yellow painted road safety lanterns commenced soon after.
The patent describes the operation as follows :

This invention relates to a liquid fuel lamp burner, of the kind incorporating a wick to convey liquid fuel from a supply font or tank to feed the flame, and proposes such a lamp burner which is eminently suitable for use in warning lamp devices, in that, during operation, it is capable of producing a relative rapid pulsating flame which intermittently flashes upwardly, in a series of relative rapid "flashes", rather than being substantially steady; whereby the flame from such burner, which may be mounted in a suitable casing, will be most prone to attract attention to impart visual warning, and in this regard to be likely to be more efficient than a substantially constant and steady light, or a light which "flashes relatively slowly i.e. with a relatively long time interval between the flashes. In this regard, the present invention enables a pulsating flame having in the region of 120 to 200 flashes per minute.
And so on - .
The attached photo of the wick surround tube and the accompanying diagram, shows that the wick itself is not encased in the usual close fitting tube, but is exposed for a height of about 3/8 " where it is there held in location by a fine wire support. It then rises -still exposed, for a height of about 3/16 " above the wire support.

When the lamp reaches operating temperature, fuel vapourises off the sides of the wick and accumulate in the wick surround outer tube, which has small air-bleed holes in the lower section. When the vapour / air mixture reaches the point of being a combustible mixture, the flame ignites it, and the expansion propels the ball of burning mixture out of the wick surround tube - still burning - to a height of about 2,1/2 - 3 inches.

In the road-works warning lanterns, the housing is constructed with the red Fresnel lens set about 3 inches above the wick height. This means that the constant wick flame, nor any other light, can be seen through the lens until the propelled ball of burning mixture reaches its top height, which is level with the position of the Fresnel lens.

In my lamp, the eruptions occur about 80 times per minute, but as you can see in the reproduction of the company's advertising brochure, there is a second burner with will "blink" 100 - 200 times per minute for 96 hours

The advertising material also shows that lanterns were available, which had variations in the Fresnel lens sizes - some 3", some 5", and combinations of those on one, two or three sides.

I am surprised that the flame does not get extinguished during the flash operation, but in the many times that I have left the lantern operating for an extended period of time, this has happened only three times. Perhaps outdoor usage and weather conditions might cause failures to occur more frequently.

The setting of the wick height is quite critical. Higher gives a faster flashing rate, and lower slows down the cycle. The maximum wick height change is about 1 mm, and the variations in the flash rate remain within that 60 - 80 cycles per minute. Any variations from the manufacturers settings affects reliability.

I have heard (but not seen) that the same lantern housing painted black and fitted with a clear fresnel lens was sold as a FOX SCARE lantern, and I suppose that it may have been intended for use in or around poultry farms or such-like.

I have not spoken to anyone who recalls seeing these flashing lanterns in actual daily (nightly) usage, in conjunction with the standard non-flashing road warning lanterns of the kerosene era, but maybe I just haven't spoken to the right people. Also, the two that I have are the only two that I know of, and with the increasing number of lighting history enthusiasts and the many means of communication, that is surprising. But again, maybe I'm just not speaking to the right people. I would like to hear about other lanterns that operate on this principal. Maritime or railway safety usage would seem to be good possibilities.

As with many things in life, timing is important, and as I recall in the 1960's, about the time when the kerosene flashing lanterns would have been coming onto the market, there was also the first of the battery operated roadwork warning lanterns becoming available. These had the typical 6 volt battery with the two spiral spring connectors on the top. They were fitted with a special bulb that had a bi-metal thermal switch built in. As the current flowed through the bulb, the blade switch would heat up and open the circuit, causing an intermittent operation of the bulb. They were a little bit temperamental, and not fully reliable. However they were pointing the way to the next era, where electronic switching methods took over, and eventually the illumination was provided by LED units. A brilliant concept in every way.

That's the way that progress and evolution works. I know that I am biased, but when it comes to flashing fights, I just like to keep in mind that kerosene did it first!
- - - - - - - - - - - - - - - - -
© by Robert Isdale, Brisbane.
used with permission. Thanks a lot!
Richard Single's Art Craft Lantern.


Blick in die Laterne
View inside the lantern.


Angezündet, brennt mit kleiner Flamme...
Lantern lit, small flame...


die größer wird
growing bigger


Brennerdetails.
Detailed images of the burner.


Brennerdetails.
Detailed images of the burner.
Nicoln Flackerlicht mit Rhewum Blitz Lampe
"RHEWUM" Rheinische Werkzeug- und Metallwarenfabrik G.m.b.H. Remscheid - Lüttringhausen


Bilder und Video von Pascal zur Verfügung gestellt - Danke.


Rhewum Blitz Lampe von Jörg Wekenmann.


Brennerdetails Rhewum Blitz Lampe von Jörg Wekenmann.


Brennerdetails Rhewum Blitz Lampe von Jörg Wekenmann.


Brennerdetails Rhewum Blitz Lampe von Pascal.


Brennerdetails Rhewum Blitz Lampe von Pascal.


Brennerdetails Rhewum Blitz Lampe von Pascal.
Eine Sammlung von Patenten.

Ausgegeben Mai 1951: DE000000805008


RHEWUM: Sturmlaternengehäuse für unabhängiges Fahrzeugschlußlicht



Bekannt gemacht Dezember 1953: DE000001667832


RHEWUM: Sturmsicheres Blinklicht (Flackerlicht)
Gebrauchsmusterschutzanmeldung - gelöscht



Ausgegeben Dezember 1957: DE000001021304


RHEWUM: Vorrichtung zur Erzeugung eines Flacker- oder Blinklichts



Bekannt gemacht Juni 1958: DE000001768202


RHEWUM: Sturmlaterne mit Schutzgehäuse
Gebrauchsmusterschutzanmeldung - gelöscht



Ausgegeben November 1960: DE000001079564


RHEWUM: Sturmsicherung für Sturmlaternen



Offenlegung November 1974:


Wilson, Nassau, Bahamas: Öllampe